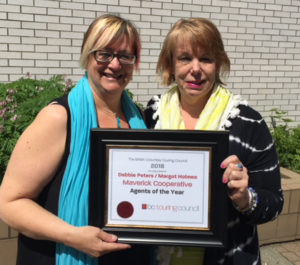 Caline Artists International and Magnum Opus Management formed a marketing cooperative in September 2017 where artists on both rosters would be marketed together around the globe. In 2018 the Maverick Cooperative was awarded the BC Touring Council Agent/Manager Award 2018 for their contribution. Please feel free to contact either Margot Holmes or Debbie Peters to book the Maverick Cooperative Artists.
42 Pop Up Concerts during Covid Summer of 2020
During the summer of 2020, Margot Holmes produced 42 Pop Up Concerts in her position as CEO of  the Vancouver Island Symphony. Four Small ensembles form the Symphony presented nine concerts in people's beautiful gardens on Vancouver Island from Saltair to Courtenay. This allowed the Symphony to provide revenue for musicians and also gave Symphony fans an opportunity to experience an intimate concert with musicians in a safe setting outside. Margot shares more in this video captured at the final concert in August 2020.
Canada-wide partnership developing an online showcase for the performing arts
March 30, 2020
Caline Artists International and Magnum Opus Management is pleased to announce that, in partnership with the Atlantic Presenters Association, Caline Artists International, Latitude 45 Arts, combined with the leadership of Strategic Moves and the technical expertise of Octagram, we are set to begin the development of an innovative digital project designed to showcase performing artists to concert presenters and promoters. Maverick: A Digital Showcase Platform is a multi-phase project funded, in part, by the Canada Council for the Arts through the Digital Strategy Fund. We plan to design Maverick to benefit the current live arts ecosystem and allow this much needed digital service to support our entire industry.